How Does GAP Insurance Work?
Let us say you have paid £20,000 for your brand new car, 3 years later your car is stolen and declared a total loss by your motor insurer.
Your motor insurer may only cover the market value of the vehicle at that point. Let's say now your car is only worth £8,000 as a 'market value' settlement.
You have lost 60% of the original price you paid for the vehicle. All you may have is £8,000 to replace it. You may also have finance outstanding too.
Return to Invoice GAP can provide the answer by topping up your £8,000 motor insurers settlement with the £12,000 you have lost. This can give you the original £20,000 invoice price back in full.
Get a quote
Comparing GAP Insurance Prices
At EasyGap we pride ourselves in offering value to our customers. That means that we aim to provide some of the lowest policy prices in the market, without any dilution of cover features.
So how can we achieve this?
If you are comparing our premiums with the price from your motor dealer then there are several reasons why the premiums, for seemingly similar products, differ.
Rate of IPT – Insurance Premium Tax is the standard 12% at EasyGap, the higher 20% rate from your dealer
Volume of sales – The EasyGap business model is that we provide a high volume of products at low commission rates. Motor dealers may only provide low number of policy sales and therefore have a higher commission expectation
Supply Chains – the motor dealer supply chain may be far longer (and therefore more 'mouths to feed' than an insurance broker, like EasyGap, who deal much closer to the insurer of your policy
Even when comparing to other online providers, EasyGap can still be significantly lower premiums, why?
No paid affiliations– EasyGap does not pay affiliate leads nor does it pay for 'recommendations' from well-known media names. These costs can only raise the cost of policies
No gimmicks – EasyGap does not raise premium prices, only to have you hunt the internet for a discount code. We think our products are still better value when discount codes have been added to other providers' products anyway. Why make life so difficult? Best price first time!
With a 3 year policy return to invoice policy from £99.99 why not click or call 0800 195 4926 or 0151 647 7556 and see how affordable EasyGap Insurance can be?
Read more
Lease and Contract Hire GAP Insurance
What happens if you take a vehicle on a lease or contract hire agreement? If the vehicle is written off then your leasing company will expect you to settle your agreement with them. Your motor insurance settlement may not be enough to do that.
If you have no option to own the vehicle then there is no sales invoice for the vehicle in your name. Return to Invoice GAP is not suitable, as you cannot claim the invoice price back on a vehicle you do not own.
The answer lays with a Lease or Contract Hire GAP policy. This is designed to cover the difference between your motor insurers settlement and the outstanding lease settlement you are asked for, in the event of a total loss.
Deposit Protection for Advanced Rentals
You even have the option to cover your initial rental payment (normally 3,6 or 9 monthly payments in advance) by taking Deposit Protection. This means you can claim back this rental to use as a deposit on your replacement vehicle.
As our name suggests, we try and make taking GAP Insurance as Easy as possible. With our Lease and Contract Hire GAP all we need from you is your monthly rental figure, and the length of cover you need to get a quote. We have no maximum claim limit on rentals up to £500 a month and for rentals between £501 and £750 a substantial maximum claim of £25,000.
The policy can also provide an excess contribution of up to £250 if your motor insurer deducts an excess from their settlement to you, following a total loss write off claim.
Protecting your lease need not be difficult!
Read more
Do cars really lose that much money in just three years?
At Easy Gap we will always be completely honest. We may not tell you what you want to hear, but it will be to the best of our knowledge and always factually correct.

So the simple answer is yes; your vehicle can lose much of its original value in a relatively short period of time.

No one ever likes to think that they have just agreed to buy a car which they know will be worth a fraction of that amount in just a couple of years. We all work and save too long and too hard for that to happen. But it does happen and we already accept it as a natural part of life. After all, you would not expect to pay the same amount for a brand new car as you would for a four-year-old vehicle with 40,000 miles on the clock. So we accept depreciation as a natural part of motoring and it is never normally an issue. We looked at some of our staff cars and price checked them to see how much they had lost, to illustrate the point.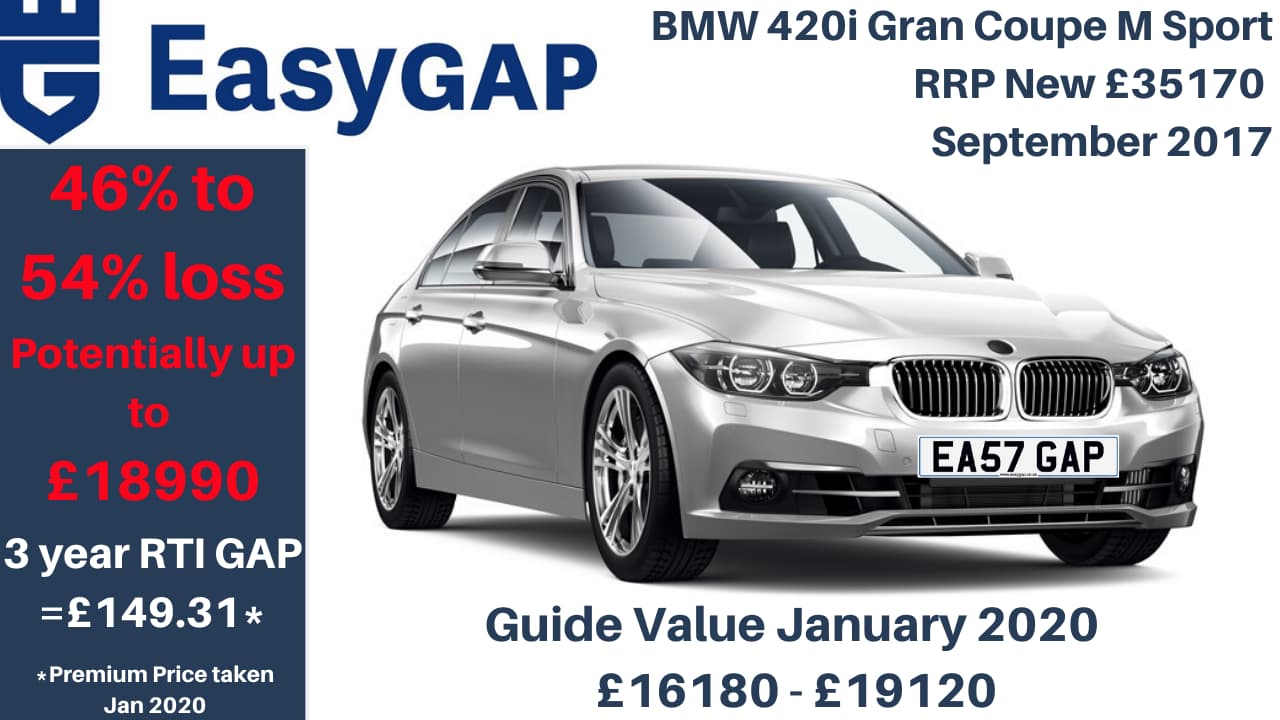 For example, did you know that BMW 4 Series, 2.0 (184bhp) 420i M Sport (s/s) Gran Coupe 5d Auto has a new RRP of £35,170. Less than two and half years later it is valued at between £16,180 and £19,120. (prices are taken from Glass's Guide website Jan 2020)

A two and half-year-old Audi, A3 Cabriolet, 1.4 TFSI (150ps) S Line Nav (CoD) (s/s) Cabriolet 2d with a new price of £30,410 with very low mileage of just 12,000 miles is now worth between £16,930 and £19,270.

Less than 12 months old Vauxhall, Astra, 1.6i Turbo (200ps) Elite Nav (s/s) Hatchback 5d with just 1,300 miles (yes we know they really do have to use it more!) has an RRP of £23,670 according to Glass's guide the vehicle is now valued at between £12,130 and £14,110.

Now imagine what would happen if any of the cars were written off. Luckily for us we all, as you would expect, have gap insurance. Without it either member of the team could be faced with, at best, losing thousands of pounds, at worst having to continue paying for something that they no longer have. Even worse, having to take on extra financial commitments to clear the debt.

So yes, it is your car, your money and most definitely your choice. But is it really worth the risk?
Why EasyGap Insurance?
As our name suggests, at EasyGap we try to keep things as simple as possible. Straight forward products that do what you expect them to

This is why our system will ask you to answer questions before you can ever be shown a quotation. This is because we only ever want you to consider policies that you can benefit from. The very last thing that we would ever want is for a customer to buy a policy that they can not benefit from or to be left potentially exposed.

Whether you are looking for GAP Insurance, Tyre & Alloy Wheel Insurance, SMARTCARE Cosmetic Insurance or Motor Excess Insurance from EasyGap, all are designed to cover you with minimum fuss, as well as offering you the best value possible.
Another key advantage of using EasyGap is the brand is only one of several operated by our company Aequitas Automotive Ltd, in this field. We can access other comparable products (and insurers) via our sister websites at Totallossgap.co.uk, Shortfall.co.uk and GapInsurance123.co.uk. This means we can compare other products also if you wish, and switch provider if there is a better option for you.
Frequently Asked Questions
What can EasyGap provide GAP Insurance cover for?
Cars
LCV's under 3500kg
Motorhomes under 5000kg
Motorbikes
Taxi/Private Hire/Minicabs (not Black Cabs)
Driving School vehicles
EasyGap can also provide the following products (eligible vehicles)
Tyre and Alloy Wheel Insurance (cars only)
Tyre Insurance (cars only)
SMARTCARE Cosmetic Insurance (cars only)
Motor Excess Insurance (cars and motorbikes)
Eligible products can be purchased individually, so there is no requirement for you to purchase a GAP Insurance policy from us in order to buy an additional product.
When can you buy GAP Insurance?
GAP Insurance is normally available within a short time frame of buying, or leasing, your vehicle. EasyGap Combined Return to Invoice Gap and Lease/Contract Hire Gap must be purchased within 180 days of the vehicle purchase, or the start of the lease.
What does 'written off' mean?
The phrase 'written off' as a total loss means that your motor insurer deems your vehicle beyond economic repair, or that it has been stolen and not recovered. Instead of repairing or replacing your vehicle the motor insurer makes a settlement to you of the market value of the vehicle, at the time you claim.
Why do cars depreciate in value?
You will often hear that a brand new car loses value as soon as it leaves the garage forecourt. This initial depreciation can be, in large part, attributed to the VAT charged on a new vehicle. This value is lost immediately as soon as you turn on the key. Vehicles will continue to lose value as you cover more miles, the condition deteriorates and the manufacturers warranty runs down.
Do I need Gap Insurance if I have new car replacement with my motor insurer in year one?
You can find that some motor insurance policies will, in your first year of ownership and providing certain criteria are met, provide you with a brand new replacement vehicle if your vehicle is declared a 'write off' in year one.
However, there can be a number of reasons why you may not meet the criteria required to qualify for this. Often you will need to be the first registered keeper for the vehicle, so 'pre-reg' vehicles may not qualify. Also, the insurer may have a set time frame within which they must be able to supply the replacement vehicle. A 3-month wait for a 'factory order' may not qualify. If the plan 'b' for your motor insurer is to settle at the market value then having GAP Insurance also can make up the difference.
You must also remember you can only buy GAP Insurance within a set time-frame of buying the vehicle. With EasyGap this is the first 180 days. If you wait a year from the time you purchase your car then you may struggle to find suitable GAP Insurance for further years.
Do I have to buy GAP Insurance from the motor dealer?
No. Often the first time you will be told about GAP Insurance will be by the dealer who sells you the vehicle. The decision on whether you buy GAP Insurance from the dealer, or from an independent provider like EasyGap is entirely up to you.
Why is GAP Insurance more expensive at motor dealers?
Well know media names like Martin Lewis at MoneySavingExpert and Which? have long-standing GAP Insurance reviews highlighting that you will expect to pay much more for GAP Insurance at the motor dealer than at the likes of EasyGap. There are a number of reasons for this, and a dilution of cover is not one of them.
Insurance products at Motor Dealers attract a higher rate of Insurance Premium Tax (20% as of January 2020) than the standard rate you pay at independent brands like EasyGap (12% currently).
Commission structures, longer supply chains and volume of business can all be contributing factors as to why GAP Insurance is much more expensive at motor dealers also.
Who underwrites the EasyGap products?
The insurer who underwrites the EasyGap products from January 2020 is Acasta European Insurance Company Ltd. Acasta is well known in the GAP Insurance field in the UK, both with independent providers like EasyGap as well as underwriting GAP Insurance for one of the best known prestige car manufacturers in the UK market.
All claims are handled by Spectrum Insurance Services Ltd, based in Sheffield.
Products are backed by the Financial Services Compensation Scheme in the UK also.