SMARTCARE Cosmetic Insurance from EasyGap
What is SMARTCARE Cosmetic Insurance?
SMARTCARE Cosmetic Insurance from EasyGap provides three separate areas of protection against the costs of cosmetic repair to your car. These three protections are:
Why buy SMARTCARE Cosmetic Insurance?
Ownership of a car can inevitably include suffering damage to your vehicle. These can include kerb scuffs to your alloys, a graze to your bumper or a tear in your seat fabric. This can be both unsightly and annoying. It can also have a detrimental effect on the value of your vehicle.
There can be other associated issues as well. If the vehicle is on a lease or PCP agreement, then you can face substantial hand-back charges for even the slightest of damage on your vehicle.
By taking out SMARTCARE Cosmetic Insurance you can ensure that ongoing repairs mean that both the value of your vehicle is maintained and you do not face the one-off cost of hand-back penalties at the end of a lease or PCP agreement.
Key features of SMARTCARE Cosmetic Insurance by EasyGap
Up to 5 claims per 12 month period of cover allowed*

Up to 22-inch alloy wheels covered

Diamond cut and laser cut finish alloys covered

Up to 300mm area of bodywork damage covered

Bodywork damage across 2 adjacent panels allowed

Cash contributions if repair not possible on eligible claims

£10 excess per claim
*Maximum of 4 claims for alloy repairs per year, within a total of 5 permitted.
3-in-1 Combined cover - What do you get?

Alloy Wheel Insurance can cover the cost of cosmetic repairs suffered by your wheels. These would typically be when you run down the kerb at the side of the road, leaving a nasty graze on the outer edge of your alloy.
We are able to cover alloy wheels of up to 22 inches in diameter. We are also able to cover the popular diamond and laser cut finished alloy wheels. Many other Alloy Wheel products in the market may not.
Eligible repairs can be arranged through a National Repair Network via our claims team. This is normally undertaken by a mobile repairer coming to a pre-arranged appointment at your home, or place of work.
If a mobile repair is not suitable then there are alternative solutions.
Our claims team can authorise, with prior agreement, for a local unit based repairer to be nominated to undertake the repair.
Lastly, our claims team has a central repair hub available via the National Repair Network. This would involve the wheel being sent away by courier, cost covered by the policy, and being returned to you once repaired.
If the alloy wheel is beyond repair then you can claim up to £150 towards a replacement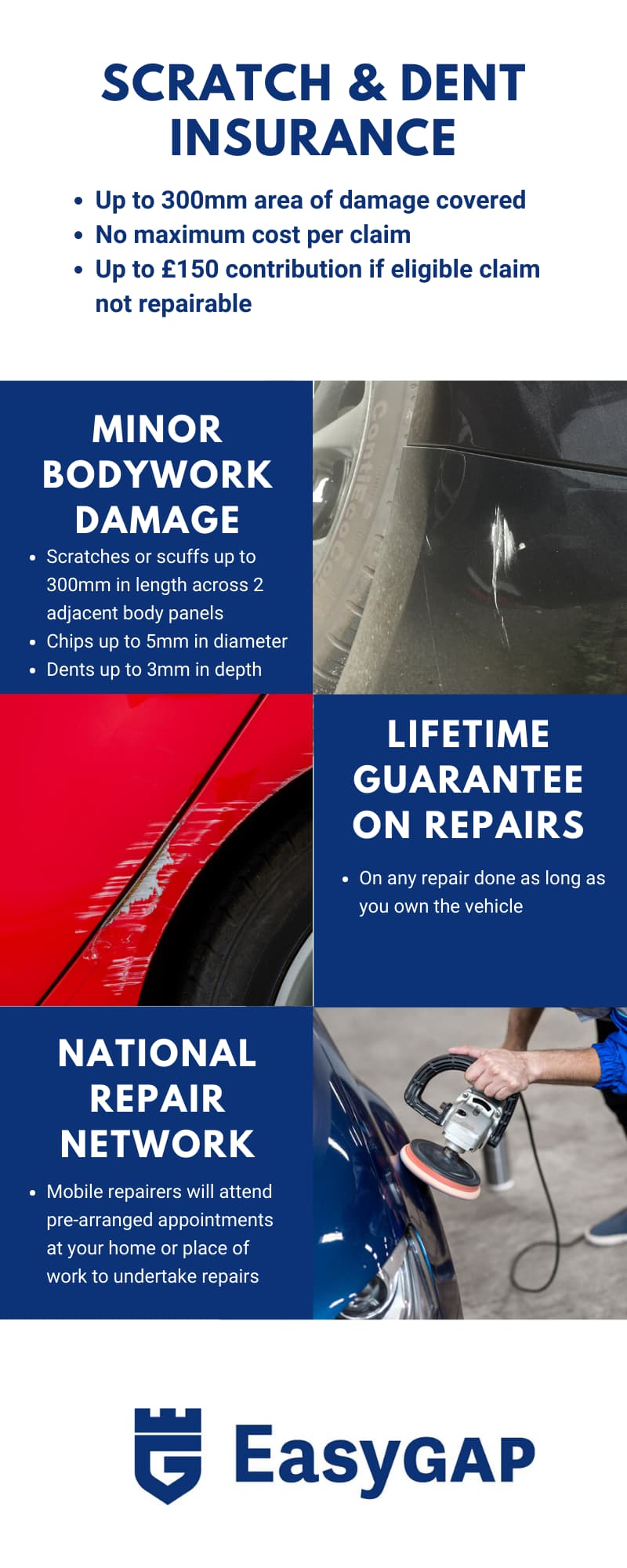 Scratch and Dent Insurance can be used to cover the costs of minor bodywork repairs to your vehicle. These can include small trolley dings and dents, bumper scuffs, scratches, and chips.
These minor bits of damage can spoil the appearance of your vehicle. They can also devalue your vehicle. This can mean you get less in part exchange if you look to change the vehicle. It can also mean you face punishing 'hand-back' charges at the end of a lease or PCP agreement.
The type of damage that can be covered must be repairable by a 'SMART' repair. SMART (Small and Medium Area Repair Technique) repairs are provided by a National Network of Repair technicians. They provide a mobile service, so they will attend pre-arranged appointments at your home, or place of work.
If the damage is outside the parameters of cover and needs to go to a body shop, then this cost is not covered by the policy. This may include where a large, flat-panel would need to be replaced or resprayed.
However, if the claim falls within the parameters of the policy limits but for whatever reason, a SMART repair is not possible, then there is up to £150 contribution towards a subsequent body shop repair.
Cover for - scuffs and scratches up to 300mm, 3mm in depth. Chips up to 5mm in diameter. Dents up to 3mm in depth.
The final type of insurance protection provided by SMARTCARE Cosmetic Insurance is to cover the costs of cosmetic repairs to the interior of your vehicle. These can include:
Tears or cuts to seat fabric

Scuffing of leather interior

Damaged plastic trim

Burns to fabric (not to the seat foam or padding)
Damage to the interior finishes of your vehicle can, again, detract from the aesthetic appearance and also have a detrimental financial outcome for you. Not only can these types of damage lower the value of your vehicle, but it can also lead to the aforementioned punitive 'hand-back' charges at the end of a lease or PCP agreement.
You can see from the 'before and after' pictures of some successful claims, the ability of the repairers to bring back the original condition of your vehicle.
The policy cannot cover where interior items need to be replaced or are broken. The item must be repairable in the opinion of our expert repairers.
If an eligible claim cannot be repaired then there is up to £100 contribution paid towards the cost of any subsequent repair you may choose to do elsewhere.

Who, how, why, what? - Frequently Asked Questions on SMARTCARE Costmentic Insurance from EasyGap
What is the maximum number of claims I can make?
You can make a combined total of 5 claims per 12 month period of cover. Of the 5 claims, a maximum of 4 can be for alloy wheels.
For example, you could make 2 claims for alloys, 2 claims for bodywork and 1 claim for interior repair in a 12-month term.

Who will do the repairs?
Our claims team has access to a national network of qualified repairers. Who will be used for each repair will very much depend on what the repair entails and the availability of repairers in your area at that time.
The largest network we use is a company called Revive. They have a nationwide coverage of trained technicians who can undertake a range of cosmetic repairs to alloy wheels, bodywork, and interior damage.
Revive carry a 5 Star rating with Trustpilot, who rate them as 'Excellent', based on nearly 6,500 customer reviews.
Am I guaranteed a repair back to the original factory condition?
No, the only way you can get back to original factory condition is to buy a new car. Even sending a vehicle to a body shop cannot ensure a 'like new' repair. However, SMART repairs can provide an extremely good quality repair, to the degree that the repair is not noticeable to the untrained eye.
If left untreated, such damages will be much more obvious and have a detrimental impact on the value of your vehicle.
Do I have to let my motor insurer know if I have claimed on SMARTCARE for a repair to my vehicle?
We would always advise that you discuss any repairs to your vehicle with your motor insurer (your motor insurance policy may require such disclosure). However, having SMARTCARE Cosmetic Insurance means you can avoid making a claim for these repairs on your own motor insurance policy.
Can I move any unused claims to the following year?
If you do not use the maximum of 5 claims in any year you cannot carry unused ones over to the following year. Similarly, if you get to the maximum of 5 in one year you cannot use up any of the 5 for the following year either.
The first year starts on the day the policy commences.

Is there a time frame in which you have to buy SMARTCARE Cosmetic Insurance?
Yes, you must buy the policy within 30 days of buying the vehicle from a VAT registered dealer, or from leasing it.

Is there an excess to pay?
Yes, there is a £10 excess or call-out charge per claim payable by the policyholder.
If I claim for 2 repairs at the same time, eg 2 alloy wheel repairs, or a bodywork repair and an interior repair, how many excesses are payable?
An excess is charged for each area of damage claimed for. So if you claim for 2 alloy wheels at the same time then you pay £20 in excess payments.
How do I make a claim?
The claims are handled, and co-ordinated by Spectrum Insurance Services who are based in Sheffield. For any type of claim we would advise that you contact Spectrum as soon as possible, after suffering the damage, but certainly within 30 days of the incident.
It would be helpful if you could take some photographs of the damage. A mobile phone with a camera is usually perfect for this. The claims team can assess the damage by these photographs and arrange a suitable repair for your claim.
The Claims Team will liaise with a suitable repairer in your area. An appointment will then be made for your home, or place of work.
The repairer will need a safe area to perform the repair (ie not on the side of a busy road) for Health and Safety reasons. They may also need access to a power supply.
Can the policy be transferred?
Yes, there are a couple of options for this.
If you change the vehicle for a new eligible vehicle (it must qualify for cover, as the original on cover) then the insurer will consider a request to transfer the cover to your new vehicle. This will be subject to the insurer being happy as to the condition of the vehicle. For example, they may ask for photographs of the alloy wheels for the new vehicle to show there is no pre-existing damage on them.
Subject to the insurers' approval, you can transfer the policy to a new vehicle you own. The first transfer in the policy term is free. Any subsequent transfer requests will be subject to a £35 administration fee payable by the policyholder each time.
If you sell the vehicle privately then the insurer will consider a request to transfer the remainder of the policy to the new owner. This will require a £35 administration fee to be paid also.
Is there a waiting period for the policy?
Yes, the 'waiting period' is the time at the beginning of the policy during which you cannot make a claim. In this case, the waiting period is the first 30 days of the policy term. So from the start date of cover, you cannot make a claim for damage within the first 30 days.
Sadly, this waiting period has been introduced to prevent fraudulent claims. The insurer did see before the waiting period was introduced, that a number of policies were purchased and then an unusually large number of claims were made within the next few days. Clearly some claims were legitimate but the unusually large number suggested some were for damage already on the vehicle when the policy was purchased.