As a consequence of the worldwide shortage of semiconductor chips, the UK's new-car market is suffering from "long Covid," according to the Society of Motor Manufacturers and Traders (SMMT).

While new-car registrations increased by 28% in June compared with the same period last year (when sales dropped 34.9%), they are still 16.4% below the 10-year average for the month.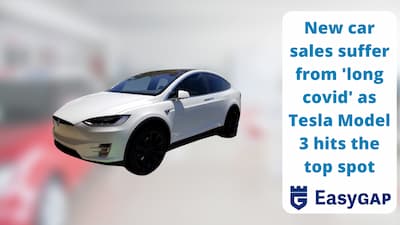 The SMMT's chief executive, Mike Hawes, said carmakers are dealing with a "long Covid" of vehicle supply challenges, including the inability to get new models into showrooms.
Due to manufacturing limits and increased demand from the consumer electronics industry, automobile manufacturers have struggled to secure semiconductor chips that are crucial to the operation of current cars.
It has been reported widely that the situation with the supply of semiconductor chips is not likely to improve greatly in the near future. This may mean that simply down to restricted supply, new car sales may continue to recover only very slowly from the Covid pandemic.
Tesla 3 hits the top spot
186,128 new vehicles were registered in June, with the Tesla Model 3 topping the list, followed by the Volkswagen Golf and Ford Puma.

Last month, 8.1 per cent of those who were able to find a new vehicle chose a pure electric vehicle, 60.3 per cent a petrol car (including mild hybrids), 10.2 per cent diesel, 8% a standard hybrid and 6.4 per cent a plug-in hybrid.
Hawes did provide some reason to be optimistic for the future, saying: "rebuilding for the next decade is now well underway with investment in local battery production beginning and a raft of new electrified models in showrooms."
He added: "With the end of domestic restrictions later this month looking more likely, business and consumer optimism should improve further, fuelling increased spending, especially as the industry looks towards September and advanced orders for the next plate change."