Ten reasons why a motorhome is better for a holiday than a hotel
Motorhomes are popular holiday vehicles as they provide the convenience of sleeping, cooking, and relaxing inside while travelling.
A motorhome is a motorised vehicle with living space on the inside. It can be driven to anywhere you want to go. Does this make motorhomes better than staying in a hotel?
Here we give you the top 10 reasons why you should use a motorhome for your next holiday!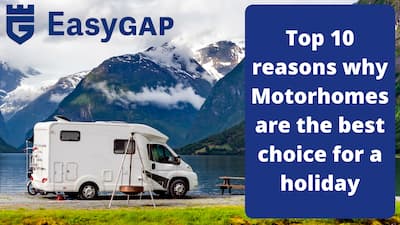 More space in a motorhome
A motorhome has much more room than a campervan. You can walk around inside, whereas a campervan can be tiny and cramped, especially when you have to squeeze in the beds at night time.
Drive wherever you want in your motorhome
You can drive a motorhome on all surfaces, making it great for travelling around. If you want to go off the motorways or travel nowhere near cars, motorhomes are great!
Forget about getting to your hotel when motor homing.
With a motorhome holiday, you can park up next to your favourite beach and settle down in your motorhome just metres from the sea! You don't have to waste time going back and forth from a hotel room to the beach every day. You stay there and enjoy it all day long.
You can choose what you eat wherever you want in your motorhome.
Motorhomes come with a kitchen so that you can cook as much as you like. This means that if there isn't an eating area nearby. Also, you can eat what you want in your motorhome.
You can have friends and family over for motorhoming holidays.
If you are exploring with a group of friends or family, motorhomes make it easy to be around each other all the time.
It is challenging to move around in campervans as there will be little space for furniture and beds, so you would have to squeeze in together, which could get uncomfortable at times! Motorhomes take away that problem by being much more spacious than campervans making sure everyone has enough room to sleep, cook or relax!
Safe places everywhere in motorhome camping areas
A motorhome holiday is much safer than a camping holiday as motorhomes have their own parking space! This means you don't have to worry about finding somewhere to park your motorhome as it will always be in one place. You can relax, safe in the knowledge that your motorhome is safely parked and your valuables locked away.
Motorhomes can go high up in the mountains, unlike caravans or hotel rooms!
Caravans are not motorised and cannot be driven in mountainous areas! This means motorhome holidays are great for people who want to explore places like Snowdonia or Scotland, where motorhomes can reach high altitudes while caravans cannot.
You can find exclusive hotels in beauty spots, but you are likely to have to pay through the nose to get a room.
You can take a 'road trip' motorhome holiday anywhere around Europe.
Motorhomes have the advantage of travelling around everywhere, so you don't have to waste time finding hotels if there is nowhere suitable nearby! If you like travelling far, motorhome holidays are much better than hotel-based holidays as they allow you more freedom.
You can enjoy your holiday at your pace and schedule.
Motorhome camping provides much more freedom than regular camping, as if you get bored of one place, you can drive off somewhere else. Fancy staying on for another week? Not a problem. You don't have to worry about travelling somewhere and not being allowed into the motorhome pitch you chose, as motorhomes can go anywhere.
Motorhomes are great value for money.
What is cheaper than staying in a motorhome for your holiday? If you don't already have your motorhome, renting one on holiday is more affordable than regular hotels! This can make motorhoming holidays excellent value for money than standard hotel-based holidays, which can cost much more.
So in conclusion, if you like adventure or want flexible holiday itineraries, then motorhomes are the best option for this. Motorhomes can get almost anywhere and give much more freedom holiday than regular hotels or caravans.
Even if you are not convinced enough to go out and buy a motorhome now, remember you can even rent one these days to see if they suit you.