Record Q1 for Motorpoint boosted by online sales
Motorpoint has confirmed that it sold over 60% of its used car business online in the first quarter of 2021. This has helped boost the company performance to deliver a record start to the year.

Motorpoint chairman Mark Morris confirms that the UK's biggest car supermarket "continues to look to the future with confidence" at its AGM.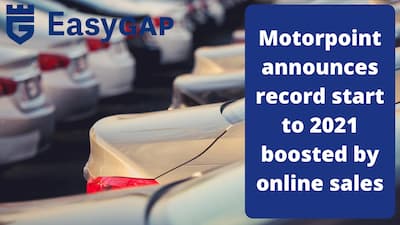 The record start for 2021 also compares favourably to figures achieved pre lockdown. The results were far more than the corresponding figures for 2020, for example.

Motorpoint pointed out that the reduced availability of used vehicles, a knock-on effect of lower new car production, has dampened performance in the summer months.

Motorpoint aims to add around a dozen new sales and' click and collect' depots to add to the current 14 site group.
Included in the expansion is a more extensive development of the current facilities in Motherwell, Scotland. Motorpoint is also preparing to open a new site in Manchester, the former LSH Auto dealership close to the home of Manchester City.
Motorpoint has a precise aim to break the £2 billion mark in revenues. With the latest results and plans for the future, they seem well on the way to achieving their goal.